People in Pakistan who want to check SIM owner name. It has been made easy for them to check the name of the owner of the SIM.
That is why we have discussed checking the name of the owner of the Sim through the mobile number.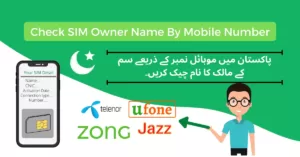 SIM Owner Details by Mobile Number (Reality)
In Pakistan, It is easy to find out the owner's name using a mobile number. Provided that you have that SIM card.
But those who want to know the information of any SIM. This is not possible for them. Because the law does not allow anyone to know the data of a verified SIM number.
So as many applications and websites as there are. To find out the details of the mobile number, they use the applications in your mobile to steal the data and show your data to other people.
That's why it's so important to have your mobile security.
Check SIM Owner Name By Mobile Number
As we have told you if the sim is available, you can check the name and information of the owner of the SIM number, Without any problem. Whether you are using Jazz, Telenor, Zong, and Ufone SIM.
All you have to do is type "MNP" from your Jazz, Zong, Telenor, Ufone mobile number and send it to 667. The charges will be Rs. 2.46.
In addition, different methods are provided by each network. There are also some free ones that you should try.
How to Check Jazz SIM Owner Name
There are 3 easy ways to find Warid/Mobilink, Jazz SIM details, or owner name for free, 2 of which are absolutely free. we have mentioned them below.
1: Dialling Code
Now dial *4443 from your prepaid SIM and *777# from postpaid SIM and reply by writing 6 then write 1 and send. You will now see the SIM owner's name, ID card number, and mobile number.
2: Via Application
This is the best online way to find out the name of the owners of the Jazz sim. You can see the name of the owner of the sim on the home screen just by installing the Jazz World App on your mobile and sign in.
3: Send Message
Send MNP to 667 Rs 2.46
Check Ufone SIM Owner Name (Easy Way)
To find out the ownership of Ufone SIM, send a blank message to 696 for Rs 0.26. Upon receipt of the reply, you will get the owner's name CNIC and Ufone SIM number.
In addition, if you want, you can send 'Mnp' to 667. The charges will be 2.46
Check Zong and Telenor SIM Number Owner Name
To check the name and information of the owner of the Zong and Telenor sim number, Just send MNP to 667 at only 2.46 PKR. A few seconds later you will receive a message containing the current mobile number details.
Short Conclusion
It is illegal to check and misuse someone's personal details. So don't misuse anyone's information.