Zong offers a balance share service to its customers called " Yari load". This allows users to share balance with their friends and request for the balance. This is a convenient service by Zong that is proving useful for customers.
Through Zong Yari Load, users can share balance with friends and relatives, family members, and anyone else, and request balance if needed. And today we will share with you all the information on how you can share Zong balance and how you can get balance by request.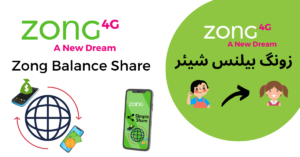 To share balance through Yaari Load please Dial *828# & follow the steps or dial *828*031Xxxxxxxx*Amount#. Rs. 4.18+tax Service charges will be applied. Reply to confirmation SMS with 1 in 5 minutes.
In Yaari load service, transfer balance of Rs.10 to 200 from Zong prepaid voice SIM to Zong prepaid number, the remaining balance should not be less than Rs.5 after transfer & Rs 50 should have been recharged in last 30 days before initiating Yaari Load Transfer request.
Dial *828# for Balance Transfer

Dial *829# for Balance Request
How to Request Zong balance
Request for Yaari load balance Dial *829# and follow the steps or dial *829*031Xxxxxxxx*Amount#. The service request is free of cost. Reply for confirmation SMS with "Y" within 5 minutes.
You can Request 2 times for balance transfer from a unique Party-B Number in a day, & you can raise request up to 5 unique Party-B Numbers within one day.
If you are a Zong user and you have not installed the My Zong app on your mobile then do so because My Zong has all the features that Zong provides to its users. And another way to share Zong balance is My Zong App.
Step 1:
First, you need to download and install the My Zong App from the Play Store or App Store then log in.
Step 2:
Once the login is there, you have to click on the"Yari Load" feature on the home screen.
Enter your mobile number to which you want to share the balance and enter the amount the click on the Share Balance button.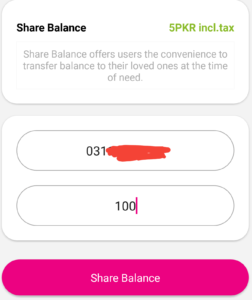 To confirm, your number will receive 6 digit pin, Enter the pin and press the share balance.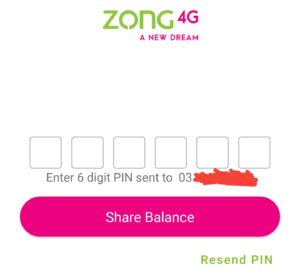 Your Balance has been successfully shared.
Terms & Condition
According to Zong official site, there are terms & condition

This service is only available to Prepaid customers(Receiver & sender both)

Minimum transfer amount Rs 10

Maximum transfer amount Rs 200

Customers can make 5 transactions per day