Zong is quenching the thirst of its customers by showering regional offers. That's why we said this because Zong is fulfilling the heart's desire of its customers by offering amazing discounts on customers Zong services for its customers.
Customers who do not want to lose their balance are saving their balance by subscribing to offers. That's because it delivers more resources at a lower cost.
And the offer we are talking about today is named Zong Apna Shehr Tank Offer and Zong 4G has also included it in the series of regional offers.
In offer Zong prepaid customers in Tank city, the opportunity to get 5GB internet, 40 other network minutes and 1000 Zong minutes and SMS. Information about subscribing to this offer is shared below.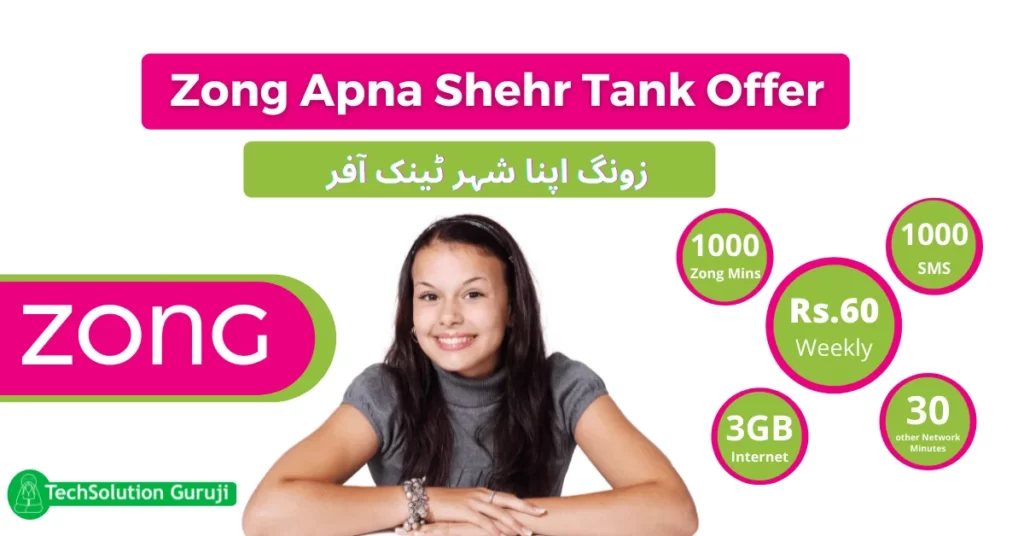 Zong Apna Shehr Tank Offer Details
Enjoy Zong customers in 1000 Zong to Zong Minutes, 1000 SMS, 40 off-net minutes, and 5GB internet Rs 80 for 7 days. To activate this offer dial *8811# or Send "Sub TANK" to 6262.
| | |
| --- | --- |
| Internet Data | 5GB |
| Zong Minutes | 1000 |
| Off-net minutes | 40 |
| SMS | 1000 |
| Validity | Weekly |
| Price | 80 Rupees |
| Code | *8811# |
Also See:
How to Subscribe and Unsubscribe Zong Apna Shehr Tank Offer
For Subscribe
Dialing *8811#
Send "Sub TANK" to 6262
Activate via My Zong App
Unsubscribe
Dial *8811# and reply with Unsubscribe number
Send "Unsub TANK" to 6262
Check Zong Apna Shehr Tank Offer
Dial 102 or *102# and reply within 30 seconds.
With 1 for Summary
With 2 For Mins
With 3 For Messages
With 4 For to Check Data
With 5 For My Zong App Information
Terms & Conditions
Offer is for Zong prepaid customers only
MBB, Internet SIM and Postpaid subscribers are not eligible for these offer
Only residents of Tank will be eligible to subscribe
The balance will not be refunded upon unsubscribing
Auto-renewal does not apply
Out of Bundle Rate for Data is Rs 1 (plus. tax/MB) whereas Out of Bundle rates for Off-net, Onnet and SMS will be charged according to the default package of the customer.
Rs.1+tax/MB will be charged after consuming 3GB till the bundle's expiry
Check remaining resources dial *102# at charges Rs 0.12
General Sales Tax (GST) of 19.5% applies on usage (if applicable)
Federal Excise Duty (FED) of 16% applies on usage ( where applicable)
Advance Income Tax (AIT) rate of 10% applicable on every recharge