If you use a Zong prepaid SIM card and are present in Bhai Pheru area of Punjab. then a special offer has been issued to you by Zong 4G. His name is Zong Apna Shehr Bhai Pheru Offer.
The bundle you get in this special offer is Zong Apna Shehr Bhai Pheru Offer with 5GB of data with which you can use the intenet very well. And also 1000 on-net minutes+30 off-net minutes from which you can call as per your need and full 1000 SMS which can be sent on all networks.
If you are looking forward to activating this offer, you should take a look below as all the details are given below.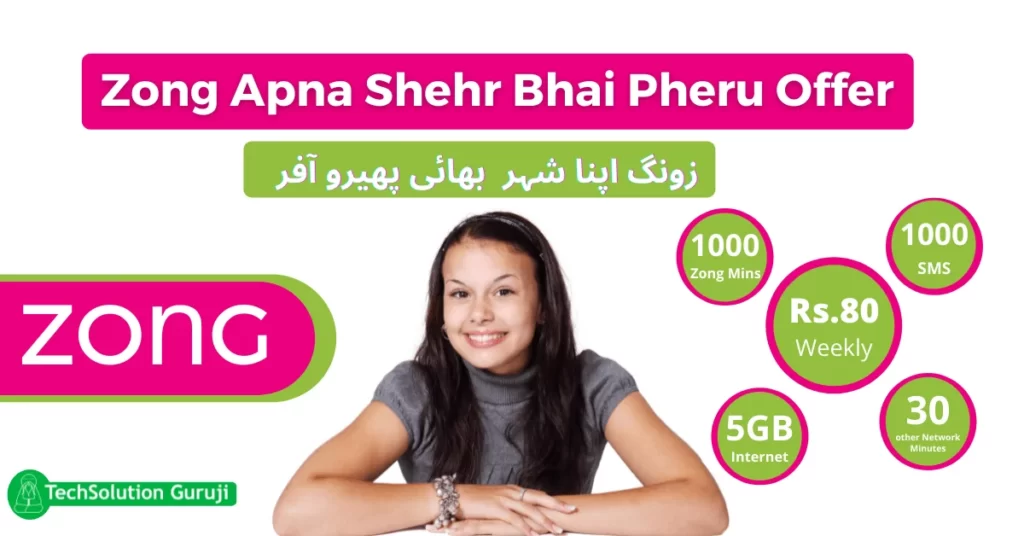 Zong Apna Shehr Bhai Pheru Offer Details
In this offer to get will chance 1000 Zong minutes, 30 Other Network minutes, 1000 SMS and 5GB data for 7 days in only Rs 80.
To activate: Send "SUB BHAIPHERU" to 6262 or dial *6277#. To deactivate: Send " UNSUB BHAIPHERU" to 6262.
| | |
| --- | --- |
| Internet Data | 5GB |
| Zong Minutes | 1000 |
| Off-net minutes | 30 |
| SMS | 1000 |
| Validity | Weekly |
| Price | 80 Rupees |
| Code | *6277# |
Check More Regional Offers
Terms & Conditions
Offer is for Zong prepaid customers only
MBB, Internet SIM and Postpaid subscribers are not eligible for these offer
Only residents of Bhai Pheru will be eligible to subscribe
The balance will not be refunded upon unsubscribing
Auto-renewal does not apply
Out of Bundle Rate for Data is Rs 1 (plus. tax/MB) whereas Out of Bundle rates for Off-net, Onnet and SMS will be charged according to the default package of the customer.
Rs.1+tax/MB will be charged after consuming 5GB till the bundle's expiry
Check remaining resources dial *102# at charges Rs 0.12
General Sales Tax (GST) of 19.5% applies on usage (if applicable)
Federal Excise Duty (FED) of 16% applies on usage ( where applicable)
Advance Income Tax (AIT) rate of 10% applicable on every recharge